Pros
Weak players from the USA and Asia
Multitabling
Personal rakeback
Reload Bonuses
Deposit Guarantee
PC client
PPPoker Review
PPPoker – is a popular mobile poker application for real money play. The principle of operation of this application is similar to the other two sites: PokerBros and Upoker. This means that users play for conditional chips, which, when withdrawn, are converted into real money at the club's internal exchange rate. To complete transactions, players use the services of agents acting as an intermediary.
Features of poker applications
Mobile poker apps first appeared in 2017 and immediately took their place in the online poker market. PPPoker and other sites have gained wide popularity due to the following advantages: 
The game takes place in closed clubs like the Home Games in Stars, where players can join companies to create private tournaments or cash games.

 

Decentralised monetary transactions, which in their anonymity are similar to transactions in cryptocurrency.

 

The game in the clubs is played for conditional money, which makes this process completely legal. In the future, the conditional currency through the agent is converted into real money.

 

The application is visited by many recreational players who prefer to play poker from their smartphone.

 
Application review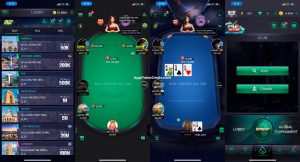 In appearance and interface, PPPoker app resembles mobile clients for popular poker rooms. Tables in this program are displayed vertically. The application runs correctly on iOS and Android devices. In addition, it is possible to download PPPoker on your PC.
Basic stats for players are collected in a separate tab. To see more details, you need to purchase a VIP status, which is sold by PPPoker for real money.
To be able to play for real money at PPPoker at several tables at once, you need to install the application on Windows. Simultaneous play from a maximum of three accounts is possible from one PC. If you want to open more than 4 tables, you will have to install the PPPoker Android application using the emulator.
Important: the room has a negative attitude towards the use of emulators. Since March 2021, PPPoker has banned the use of any third-party software while playing.
PPPoker clubs
Thousands of poker players from all over the world unite in private poker clubs of PPPoker to play together. More than 1000 players from Russia, Brazil, USA, India and other countries gather at the tables of the clubs at any time. 
If we compare the average level of playing at PPPoker with European rooms, the field strength in the mobile application is much lower. If you have profits in the cash game at one limit, for example, at PokerStars, then you can easily move up to two limits and continue winning by moving to PPPoker.
PPPoker is played within clubs, which are mainly based on geography. Among others, there are enough Russian clubs in the application. However, if you want to play, for example, with Americans or Asians, while living in one of the CIS countries, you can still sign up with the selected clubs with the help of our agent.
Types and formats of poker played
The mobile application offers a huge selection of poker disciplines and formats. In addition to standard Texas Hold'em, you will find plenty of pot-limit Omaha games with 4, 5 and even 6 cards, at tables of 6 and 9-max, as well as in heads-up format. Rates range from $ 60 to 2000.
Short Deck Hold'em is also popular at PPPoker clubs. Hold'em 6+ can be played at limits from $ 60 to $ 2.000. Open Chinese Poker is also played here, and at rather high stakes (up to $ 20 per point). In addition to cash games, the mobile application also hosts tournaments with guaranteed prize pools of up to $ 100K. You can play single table SNG tournaments and lottery Spins. In addition, the operator runs satellites where tickets to live events can be won.
Spins in PPPoker are similar in structure to the lottery tournaments of other poker rooms. The game starts with a starting stack of 3.000 chips. Of the mandatory bets, only the blinds are present, no ante is set. There is no rake charge for these tournaments. The maximum prize in PPPoker's SpinUP is x1000 multiplication of the buy-in.
Despite the fact that this application was originally created exclusively for cash players, today many clubs offer a wide variety of multi-table tournaments. The guarantees in the largest events reach 100 thousand dollars. The average ticket price for regular tournaments is $ 10-50, and the guaranteed prize pool ranges from $ 200-3000. Tournaments are not so numerous, usually no more than 100 players are gathered. However, due to the weak field, PPPoker can be interesting for tournament players.
Events can be organised not only within the framework of a specific club or union, but also on a global scale. In this case, buy-ins are made with gold chips, and prizes are usually tickets to live events or electronic gadgets. By holding such tournaments, a large number of recreational players are attracted.
How to play for real money at PPPoker
Inside PPPoker clubs, the game is played for conditional chips, but their rate is tied to real money. With the help of agents, deposits can be made, i.e. the player transfers real money to his agent, who buys the equivalent in play chips in the application. The cash-out procedure is similar – the player requests a withdrawal of funds, and then the agent withdraws chips converting them into the required currency.
To start playing for real money at PPPoker, you need to download the application to your mobile phone or computer. On Android, the APK file is downloaded directly from the official PPPoker website. For iOS devices, you can also download the application from the site, and it is also available in the App Store. The desktop version of the application is installed on the PC, but without using an emulator it allows you to run only one table at a time.
For multi-tabling, several PPPoker accounts are created at once. Our agent will help you in this matter. Next, you need to install a virtual machine on your computer, which the application is loaded to. To collect detailed statistics on players and display HUD, you need to purchase a special converter. The monthly cost of using the pokermasterhud converter is $ 150.
The registration procedure in the application is quite simple, it consists in specifying the name and surname, password and nickname. After creating an account, you can select your region (country), link an e-mail box and perform other settings. Each player is assigned a unique ID that will be needed to join the clubs.
After contacting our agents, let them know your ID and poker preferences (discipline, limit, format). The agents will select the most suitable club in which you can register.
For transactions, we used the electronic payment systems Skrill and Neteller or cryptocurrencies. The player transfers money to the agent's account, and then they transfer the funds to the balance of the game account in PPPoker. The minimum top-up amount is $ 200. You can create no more than four accounts from one PC. However, playing from different accounts at the same table is strictly prohibited.
* Please note that in order to withdraw money from crypto to fiat, you will need verification on the exchange. The process takes no more than 24 hours
Money is withdrawn in the same way as with a deposit – through an agent. The money will be credited to your account within 1-3 days from the date of application.
The rake in the poker application is standard everywhere and equals to 5% of the bank at 6-max and 9-max tables. If you play heads-up, the rake is reduced to 3%. The cap limits the maximum amount of rake to 2-3 blinds. PPPoker rakeback is fixed for all players and is usually 20%. In some clubs this parameter may differ. For more information, please contact our agents.
PPPoker advantages and disadvantages
The advantages of the PPPoker mobile application include a relatively weak field, high traffic and the presence of a game at any time of the day. The ability to play at several tables at once on a computer is also an advantage of this operator.
The main disadvantage of PPPoker is a complex system of mutual settlements and currency conversion with the participation of an intermediary in the form of an agent. Also, for many regular players, the need to use a converter for HUD output can be an obstacle, which costs $ 150 monthly support. The restriction to four tables will also not appeal to every poker player. Nevertheless, due to the very weak filed, all the listed disadvantages of PPPoker seem to be not so significant. And over time, you can adapt to all the inconveniences by organising a regular profitable game. 
PPPoker Live Traffic