Pros
Good traffic in primetime(20:00 CET)
Personal Rakeback
Deposit Guarantee
Fast Cashouts
BadBeat Jackpots
Referral Program
PokerBros Review
PokerBros is a popular mobile poker application. It appeared in 2019 and has become an improved version of operators such as PPPoker and Upoker. The main advantage of PokerBros is its advanced design, spectacular graphics and high functionality.
The poker application brings together thousands of players from all over the world at the tables. PokerBros is especially in demand among poker fans from Latin America and the USA.
PokerBros works in a similar way to other applications, i.e. the game is played inside the clubs for play chips. However, each chip has real monetary value. When making deposits and cash-outs with the help of agents, electronic money is converted into game currency and vice versa. To start playing, you just need to get an ID upon registration, select the PokerBros club and indicate the ID-club and agent when joining. Check the numbers of clubs and agents with our manager.
Features of the PokerBros mobile application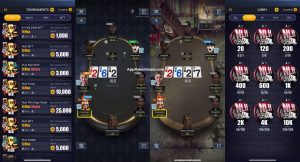 For poker players who are accustomed to playing in ordinary poker rooms, the process of financial transactions and the actual playing of PokerBros may seem unusual. This is due to some of the features of this application:
Players unite in closed clubs resembling offline rooms.

 

Decentralised p2p payment procedure.

 

You can play inside the PokerBros application only for conditional currency. To convert your local currency into real money, you must use a dedicated agent.

 

Mobile applications were developed exclusively for use on smartphones, although today you can run PokerBros on PCs.

 
The software was developed jointly with KP Entertainment Limited and meets all the requirements for security and honesty. The application interface is similar to the client of many other operators. However, thanks to the improved graphics, PokerBros looks more attractive and aesthetically pleasing. In addition, due to the large number of flexible settings, all players will be able to customise the client to suit their needs.
The main lobby is informative enough. In the center, there is a carousel depicting the clubs available to play. Going to the lobby of a particular club, you will see a list of all tables, as well as a filter with which you can set up a search for only the tables you are interested in.
Without going to the table itself, according to the information on the icon, you can understand what type of poker is played, what are the limits, how many players participate and how long this table will remain active. The tables at which the game is currently taking place are marked with a special animation.
In the PokerBros review, you should pay attention to the exclusive features of the application that other operators do not have. Flexible settings allow you to tailor themes and controls as accurately as possible to the needs of each individual player. To go to the theme settings, click on the three stripes icon, and in the menu that opens, click on the Theme Settings button. You will see several ready-made table themes that can be used for different types of poker. Also, the player will be able to create his own theme by combining different colours of cloth, types of deck backs, dealer buttons, etc.
The internal capabilities of the application allow you to leave notes for your opponents. You can also mark players with different colours and icons, depending on their level and play style (stone, fish, shark, etc.)
From one PokerBros account, you can play simultaneously at three tables. To add tables, you need to install an emulator or virtual machine. The application supports the work of third-party trackers, which makes it possible to collect detailed statistics. You can download PokerBros both on a mobile device for iOS and Android, and on a PC.
PokerBros clubs
In terms of traffic volume, the young PokerBros application is inferior to more well-known brands, but is confidently closing the gap. The number of clubs is steadily growing, as well as the number of visitors. Most of the clubs bring together poker players from America, so the peak traffic occurs late at night and early in the morning CET time.
All PokerBros clubs are united in large alliances, and therefore the game is present in them throughout the day. At the tables of this application, you can play the following disciplines and poker formats:
No Limit Hold'em with a betting range from NL10 to NL1000. Sometimes tables appear at higher rates – NL2000 – NL5000. This is the most popular format of poker at PokerBros.
A lot of users also play pot-limit Omaha, and at the same rates as in Hold'em – from PLO10 to PLO5000.

 

About 10 multi-table regular tournaments are held every day, in which a guaranteed prize pool of tens of thousands of dollars is played out.

 

Open Chinese poker can be played with jackpot up to $ 20.

 

6+ Hold'em is also featured at PokerBros.

 

Many Pokerbros USA Clubs
How to join the PokerBros club and play for real money
To join the PokerBros club, contact our agent and let us know the disciplines and limits you play. Depending on your preferences, the most suitable club will be selected for you. After that, you register directly in the application itself, then you are assigned with a unique ID, which you need to transfer to the agent. Under this ID you will play in the selected club.
It is extremely important to carry out all operations through the agent; if you deposit your account yourself, you will not be able to withdraw money later. Therefore, at first, contact our agent and choose the club in which you will play. Next, make your first deposit. Payments are accepted through the electronic systems Skrill, Neteller and in cryptocurrency. Almost instantly, the money is transferred to the game currency on the account in the application. After you have accumulated enough money, you can cash out in the same way. The withdrawal period depends on the payment system used, but usually does not exceed two days.
* Please note that in order to withdraw money from crypto to fiat, you will need verification on the exchange. The process takes no more than 24 hours
PokerBros pros and cons
There are not too many reviews about PokerBros on the Internet yet, because the application has appeared relatively recently. However, even from the few reviews that already exist, we can conclude that this poker operator definitely deserves attention. Consider the main advantages of PokerBros:
A large number of recreational players, mainly from the USA and Latin America.

 

There are many types of poker and disciplines. In addition to standard Hold'em, here you can play Omaha, Hold'em with a short deck, Chinese poker. Cash games dominate, but there are also tournaments with good guarantees.

 

A relatively small rake of 5%, but limited to only 3 big blinds, which is much less than most poker rooms. At high stakes, the cap is 2BB. In Chinese poker, 3% of the commission is charged. Rakeback at PokerBros is also good – no less than in most popular poker rooms.

 

A convenient, highly customisable application with excellent graphics and animation effects. With the help of emulators, you can download PokerBros on your PC for a more comfortable game and multi-tabling capabilities.
Support for third-party programs for collecting statistics. This allows you to get an even greater advantage over already weak opponents.

 
Naturally, PokerBros also has some disadvantages, most of which are associated with the organisation of the game and the system of transferring real money to play chips. In order to make deposits and cash-outs, you will have to use the services of agents who charge a small percentage. The disadvantages of the PokerBros application include the vertical display of tables, which is not very convenient for playing. To play 4 or more tables, you need to create additional accounts and install a virtual machine on your computer. Simultaneous play at a large number of tables requires high performance, so weak computers are not suitable for multi-tabling.
Also, certain inconveniences can be caused by the need to make deposits to each club. The minimum deposit for one club is $ 200.
Thus, PokerBros is an excellent poker application, the main advantage of which is its weak field. If you play profitably, for example, at PokerStars or 888Poker, at the same limits, by going to PokerBros you can add two limits higher. Therefore, all the disadvantages described above will be fully compensated for by more frequent and larger wins.