Mobile poker apps are becoming more and more popular every year. Unlike classical poker rooms, where all users are united in a common pool, in such applications the games are played in closed clubs. It is possible to get into these clubs only by invitation, and financial transactions are carried out with the participation of an intermediary – an agent.
Such an unusual format is justified by the main purpose of mobile poker applications – the organization of home games with their own rules. Indeed, in closed clubs there is no definite owner, who profits from the work of the application. The club organizers only take rake to keep the software running and running the games.
At the moment, three mobile applications are leading the online club poker market: PPPoker, PokerBros and ClubGG. They attract poker fans with weak lineups, high attendance and a large selection of disciplines and limits. The software of these companies is regularly updated, becoming more convenient for users, safe, and acquiring new features.
PPPoker
PPPoker is the first app to feature a poker game of this format. At the moment PPPoker is the largest platform with the largest clubs and alliances, uniting players from many countries around the world. The application has earned its popularity due to the introduction of innovative technologies, competent organization of the game and customer focus. This application constantly pleases its users with various innovations, for example, new game formats or unique conditions of the VIP-program.
PPPoker is a platform for players from all over the world. Other applications tend to focus on specific geolocations. For example, PokerBros mainly attracts poker players from the USA. PPPoker has quite a few players from the former Soviet Union, the Philippines, India and Australia.
One of the most important features of PPPoker is a large number of tables at low limits. Therefore, for micro limits players, PPPoker is ideal. Although there is plenty of play here at mistakes and highstakes, too.
PokerBros
PokerBros is a relatively new app, but has managed to gain popularity in the world of club poker. The platform features an unusual, fun interface, high attendance and a weak pool. Most of the recreational players are from the United States. Although you can find clubs from Asian countries, Britain, Australia, Spain, Germany, Mexico, Brazil and other parts of the world on the app.
The first time you sit down at a virtual table PokerBros, you will immediately feel the difference from PPPPoker. The point is that the VPIP of players is not displayed here. The main detector "phish" is absent. But do not despair – you can easily find out the weak loosest players, of which there are a lot in PokerBros.
For lovers of SnG and Spins, PokerBros is the best option. These formats are available in a wide range of limits. But for those who prefer to play one-on-one, the application is not suitable. Heads-up format in PokerBros is practically not played.
In addition to traditional disciplines, in PokerBros you will also find quite rare types of poker. For example, you can play NLH Pineapple. In this format, players are dealt three cards instead of two. And while in other applications one card is dealt immediately in the preflop, in PokerBros you watch the flop first and then decide which card to get rid of.
ClubGG
Another new mobile app, ClubGG, is launched in January 2021. The release of this platform is justified by the fact that due to the prohibition of poker in some countries, the GG network cannot operate in them. By creating a mobile app where the game is played with contingent chips, the company has expanded its reach.
ClubGG app is developed on the similar engine as GGPoker poker room. Here, too, there are a lot of interesting chips and visual effects, which makes the game more interesting and fun. With this app, you can create private clubs and organize poker games within them.
It is quite possible to expect that ClubGG will win the leadership in the online poker club market because the largest poker network in the world is responsible for the promotion of the platform. The app is ahead of the competition in terms of features and capabilities. Loyal playing conditions, wide choice of disciplines, quite a weak field and user-friendly interface attract more and more poker fans to ClubGG.
Variety of Poker Game Types
All three apps offer no-limit Hold'em, Pot Limit Omaha, Short Deck Hold'em, and several other poker disciplines. PPPPoker and PokerBros also offer Pot Limit Omaha Hi-Low. In PPPPoker and ClubGG you can play open Chinese poker. These applications also feature SnG and MTT tournaments with a wide variety of buy-ins.
In the PokerBros app you can play an exclusive type of Omaha – Double Board. The name fully explains the peculiarity of this game – instead of one board, two boards are laid out at once. Thus, each player can make twice as many combinations, which increases the action and increases the pots played. This app will be a top choice for fans of SnG and Spins, as well as fixed-limit games.
PokerBros also gives its users access to author mix cash tables consisting of a maximum of 22 types of games. Before sitting at the table, the player must first select the format of the game by limit, then the principle of transition between games (randomly or in order), the number of seats at the table, as well as the frequency of game changes in the played hands (from 1 to 20 hands).
PPPoker also boasts a huge variety of types and formats of poker. This app features games such as NLH, PLO, PLO5, Short Deck, PLO6, PLO8, NLH Pineapple and several others. Naturally, each particular club is dominated by certain disciplines. For example, at PPPFish Australia, you'll find the most Hold'em cash tables with short decks.
Software
Bots and team play are the main problems faced by all popular poker rooms in the world. The mobile applications in question do not avoid similar problems either. However, the developers of the software with each update make it more and more secure and protected from bot attacks. You can check the sites of the applications for the latest innovations that have been introduced after the update. Additionally, the anti cheat team monitors the tables 24 hours a day, 7 days a week.
PPPoker uses more than 80 unique indicators, which are used to detect and block bots, as well as users who use banned software. The application is very tough on rule violators. Players caught cheating are permanently blocked. Therefore, all users of the application can be sure that they are playing against real players and not bots.
PokerBros has an Anti-Bot option, which prevents a player from taking a seat at the table until they level up on the screen. If a player fails the task in 15 seconds, and does not pass the test for the anti-bot, then for him access to the cash table or tournament will be closed.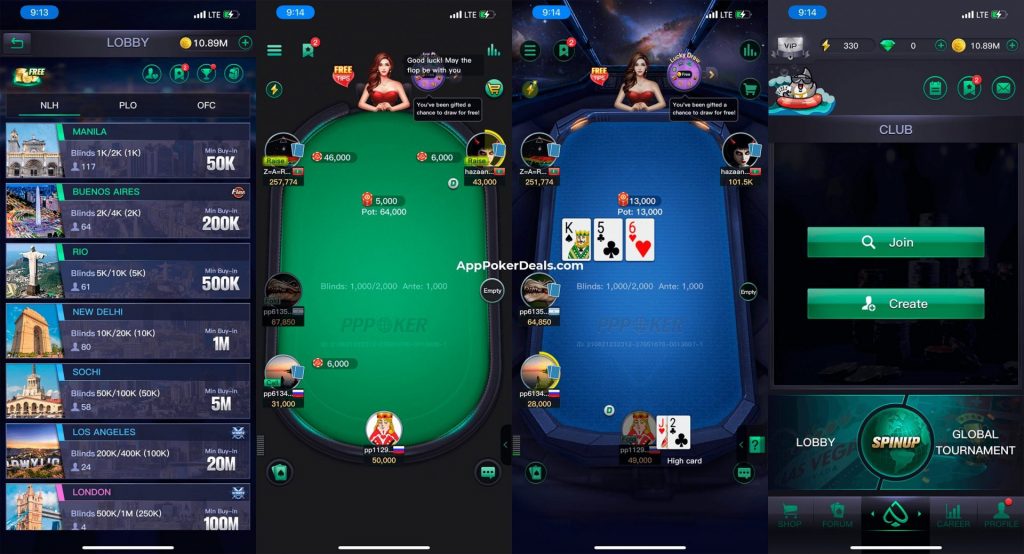 PPPoker app visually resembles a full-fledged poker site. In the "Forum" section you can watch and share notes of interesting deals with other players and comment on them. If you buy in the "Shop" VIP-cards, you can open access to the basic statistics on the opponents. But in the PokerBros client, the main stats are shown without the purchase of VIP cards.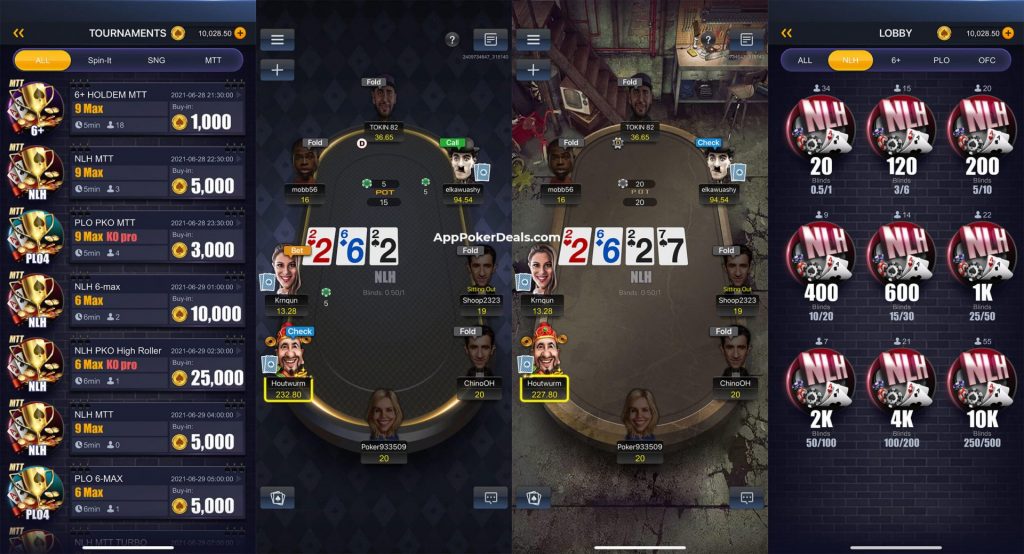 PokerBros allows to filter tables on several parameters: format, type of poker, number of players, time of existence of a table, limits. You can play at a maximum of five tables at a time. If to use the emulator to play on PC, it is possible to open even more tables. Besides, if you use emulators and converters, you can use programs to collect statistics. Although ClubGG has its own HUD where you can see the number of hands played, VPIP, PFR, C-bet and some other stats.
PPPoker client is designed in a conservative style without extra design elements. PokerBros is more advanced in this respect – there is a more interesting design made in cartoon style. While in PPPoker it is possible to put any picture or photo on the avatar, the choice of avatars in PokerBros is limited to standard images.
PPPoker has a unique feature called EV Chop. After placing an all-in and opening a hand, the player can immediately get the portion of the pot that corresponds to his chances of winning. For example, activating the EV Chop and playing with a 60-40 chance you will get 60% of the pot without waiting for the board to open.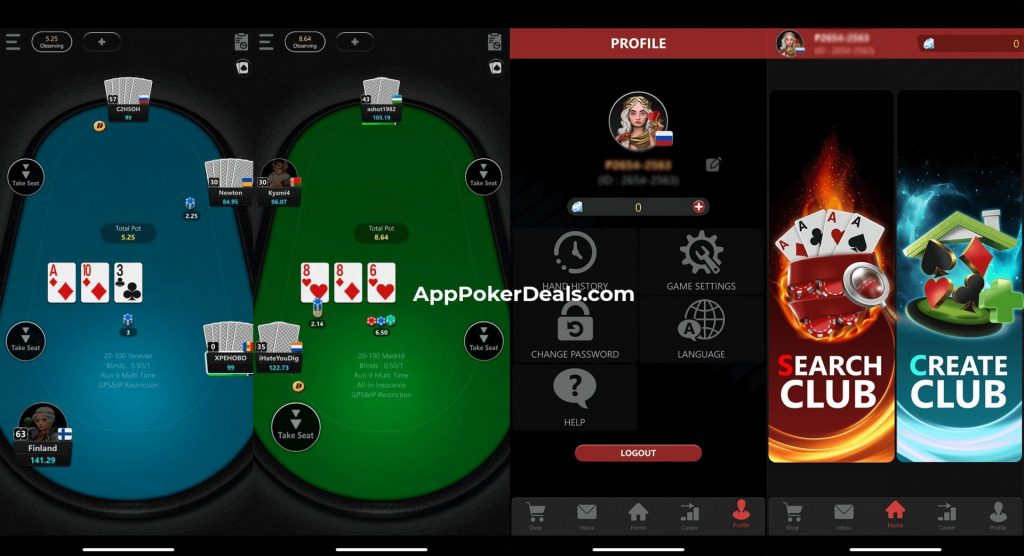 ClubGG is designed in the same style as the poker room GGPoker. The main lobby shows all the clubs. The clubs available to the player are marked with an icon. Compared to its competitors, ClubGG features better graphics and visuals.
All financial transactions in mobile poker apps are done through our agent in any way convenient for you. You can make deposits and withdrawals via Skrill, Neteller and cryptocurrencies like Bitcoin and USDT. We guarantee safety of transfers and full safety of funds. Please contact our managers to get more detailed information about transactions
Conclusion
Each of the reviewed mobile applications has its own strengths and weaknesses, which should be taken into account when choosing a platform. PPPoker, for example, boasts a large number of micro, low and mid-limit games, as well as a wide selection of heads-up tables. It also has the most clubs from all over the world, including low-limit Indian communities. PPPoker allows you to play Hold'em with a short deck and NLH Pineapple. For high rollers, this app may not be the best choice, as there isn't much game here at high limits.
PokerBros is perfect for microlimit grinders and mixed game enthusiasts. There are a lot of exclusive poker types and formats in this app, such as Omaha Double Board. Compared to PPPoker, PokerBros has more SNG tournaments and Spins. But there are no heads-up tables. Also from the disadvantages of this operator can be noted the inability to see VPIP opponents.
ClubGG has all the advantages of the most popular poker room, GGPoker. The software has got a huge number of features that can make the game not only more comfortable, but also interesting and fun. ClubGG does not support poker trackers to collect statistics in order to protect recreational players.
Join the best ClubGG, PPPoker and PokerBros through our agents. We'll give you the best deal. And our team of support professionals will help you quickly with any question regarding the use of mobile poker apps.
Telegram: @apdhelp
WhatsApp: +380663699671
Email: [email protected]