Upoker is a popular Asian mobile poker application. Despite the fact that this application was created for play on smartphones and tablets, it is possible to install it on a personal computer. Upoker attracts poker lovers thanks to its weak field, low rake, convenient software and a large selection of types and formats of poker.
How to install Upoker on PC
The process of installing Upoker on your computer is no different from installing any other applications. To get started, visit the official Upoker website and click on the "Download on the Windows" button. The standard application download process will begin. After completing it, open the installation file. When Upoker is installed on your computer, a corresponding shortcut will appear on your desktop.
By clicking on the Upoker icon, you will open the application registration form, where you can create a new account, or log in if you already have an account. There are two options for starting the game in the main lobby: by creating your own club, or by joining one of the existing clubs. Contact our agents to find the most suitable club for you, taking into account your preferences in terms of types of poker and limits. Now you can enjoy playing poker against weak opponents from your computer.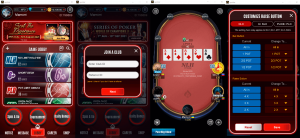 Advantages of playing Upoker
Regardless of whether you are playing from a mobile phone or from a PC in Upoker, you will experience the following benefits:
Low level of opponents' play, which will allow you to win more and more often.

 

Relatively high traffic and availability of the game at any time.

 

Wide variety of poker disciplines and formats.

 

Low rake with minimal cap.

 

The ability to create an account yourself.

 
By installing the application on a personal computer, you will have access to other benefits:
The ability to play at several tables at the same time.

 

HUD connection to view statistics on opponents during the game.

 

Convenient display of all tables on the screen at once (this is not possible in a mobile application).

 
For help installing the application, as well as finding clubs, you can contact our agent. Through an agent, you can fund your Upoker account and withdraw funds. You will not be able to perform financial transactions directly in the application. inside the clubs the game is played for play chips. We guarantee the safety of funds and prompt transactions. We also provide more favourable conditions for our players.