Pros
100% Deposit Guarantee
Great action
HU-tables in NL Hold'em and PLO
Cons
Needs emulator to use trackers
Upoker is a poker application for mobile phones that embodies the best achievements of PPPoker software. Unlike standard poker rooms, the game here takes place inside closed clubs, and not in a common pool. Compared to other apps, Upoker has the best club creation environment. The software is characterised by its high functionality. The graphic design is excellently implemented. All this together has led to the fact that the popularity of the Upoker application has grown rapidly.
Upoker appeared relatively recently – in 2019, but today it successfully competes with more famous and older applications.
Features of the game in Upoker clubs
Playing poker through mobile apps is fundamentally different from the game in regular poker rooms. All because of the fact that here conditional chips are used as the game currency, not real money. This is done to ensure that the application is legal in those countries where poker is prohibited.
However, play chips have a monetary value determined by the internal exchange rate of each club. The process of making deposits and cash-outs takes place through agents – intermediaries who buy conditional chips for money in clubs, and when withdrawing funds, convert the currency in the opposite direction and credit it to the player's account. We also provide agency services, and, by contacting our managers, you can register with Upoker and start playing at the club for real money.
Upoker review for playing on PC and mobile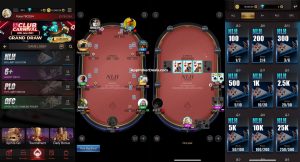 Initially, Upoker was developed as an application for mobile phones. This client can still be downloaded to smartphones running iOS and Android. Moreover, the software has a number of advantages over competing applications. The client was developed by the well-known Malaysian company Calian Tech Marketing PLT.
You can download the application to your smartphone both from the official website and from the AppStore or Play Market. The software installation process is no different from the same procedure for any other application. In the mobile version, the tables are oriented vertically. The client interface supports Russian. Considering that the application was originally developed for smartphones, it is displayed on mobile devices in the most convenient and informative way.
It is also possible to download Upoker on a PC. Up to four tables can be played from a computer on one account. Third-party statistics collection programs are not supported. However, they can be connected and HUD can be displayed using an emulator.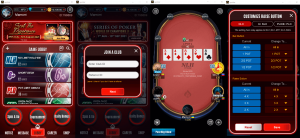 Traffic and types of poker in Upoker clubs
The entire Upoker pool is divided into closed clubs that are geographically dispersed. Therefore, our agents will select such a club for you, the peak traffic of which will be convenient for playing in your time zone. For example, you can join American, Russian, European, Asian clubs. Moreover, it is not necessary to be in the region to which the club belongs to become a member. Thus, you have the opportunity to play against weak recreational players from Asia or the United States.
As for the choice of disciplines and poker formats, Upoker is quite diverse in this regard. The following games are presented in the clubs of the application:
1)      No-Limit Texas Hold'em, mainly in 6-max format and with limits from NL10 to NL5K.
2)      Several types of Pot-Limit Omaha with similar limits.
3)      Open Chinese poker with jackpot up to $ 6.
4)      Multi-table tournaments with guaranteed prize pools up to tens of thousands of dollars.
5)      Single-table SNG tournaments.
At the cash tables, most of the traffic falls on the limits NL10 – NL60. At peak times, 35-40 tables are collected at these limits. At the highest rates (NL1.5K – NL5K) no more than 2-3 tables are played at the peak times of attendance. In terms of attendance, Pot-Limit Omaha practically does not lag behind Hold'em, especially at high limits.
How to join Upoker clubs and play for real money
In order to start playing for real money at Upoker, you need to register in the application and join one or several clubs at once. After registration, your account will be assigned a unique ID number, which must be reported to our agent. Also, let us know your preferences for the game – limits, formats, types of poker. In accordance with these requirements, the most suitable club in Upoker will be selected for you.
After that, an application is submitted to the selected club and after its approval, a deposit is made. The minimum deposit amount is $ 200. Our agent buys for this money the amount of conditional chips corresponding to the internal rate of the club, for which the game will be played. The cash-out process is similar. You should apply for a withdrawal of funds, the agent exchanges the conditional chips back for money at the same rate and transfers the winnings to your account in one of the electronic systems or in cryptocurrencies.
* Please note that in order to withdraw money from crypto to fiat, you will need verification on the exchange. The process takes no more than 24 hours
Advantages and disadvantages of playing Upoker
On the Internet, you can find both positive and negative reviews about Upoker. Most of the players do not like the following:
1)      Unusual organisation of the game compared to classic poker rooms.
2)      The need to make deposits and cash-outs through an intermediary – agent.
3)      Relatively low attendance.
4)      The need to install an emulator to support poker trackers.
5)      No more than 4 tables can be played from one account at a time.
It is worth noting that all these shortcomings become less relevant when you get used to the new format of the game. Now let's look at the main advantages of Upoker:
1)      Weak field of players, comparable to offline poker. When you switch from the European poker room to Upoker, you can also effectively play two limits higher, which will significantly increase your average income.
2)      A wide range of poker disciplines. Here you can play not only classic Hold'em, but also Hold'em with a short deck, Pot-Limit Omaha with 4 and 5 cards, Open Chinese poker (there is a variant with jokers). The main traffic is concentrated at cash tables, but there is also play in multi-table tournaments. SNG tournaments has also started to develop.
3)      The ability to join any club, regardless of your geographic location. It is not even necessary to use a VPN.
4)      The minimum cap size. With a standard rake of 5%, the cap is 3 big blinds in most clubs.
5)     A guarantee of the safety of your funds and the transparency of all financial transactions when working with our agents. Our staff is always in touch and ready to help if you have any questions while playing Upoker. Deposits and cash-outs are made as quickly as possible.
The Upoker app will be a great alternative to the classic poker rooms for regular players. Thanks to the weak field and the standard rake and rakeback indicators for European rooms, you can get big profit from playing poker here. Minor inconveniences associated with the peculiarities of such applications are completely covered by the low level of the opponents' play. To find the best clubs and conclude a profitable deal, please contact our managers. 
Upoker Live Traffic